Wastewater treatment plant column for the Mozyr Oil Refinery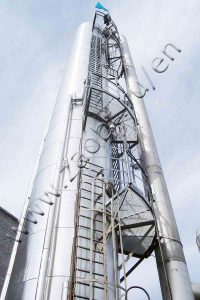 Initial step on the road to cooperation with JSC Mozyr Oil Refinery: ST Inc. will manufacture the column by the order of Belarusian refinery for the sulfur caustic wastewater treatment. The equipment will be assembled at one of the production sites of Safe Technologies Industrial Group – Sosnovy Bor Metal Works LLC.
The activities of oil refineries and petrochemical enterprises are inevitably accompanied by the formation of highly toxic wastewater — sulphurous alkaline effluents, which come from barometric jet condenser of atmospheric-vacuum distillation unit, catalytic cracking units, delayed coking, hydrotreatment and hydrocracking systems. The presence of hydrogen sulphide and mercaptans in these effluents is the reason of their high toxicity.
The column of the facility for neutralizing the sulfur caustic wastewater of ST IG make will level off the hazard class of effluent by oxidizing sulfur compounds to neutral products, which in turn will significantly reduce the negative impact on the environment.