Quality control
Quality is not only a 'combination of properties and characteristics of products' for the Safe Technologies Industrial Group, quality is an asset.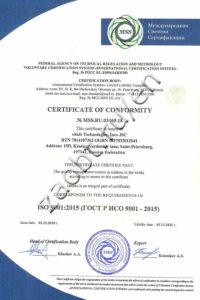 The commitment to quality is set out in the 'Quality Policy', according to which the company strives to meet the needs of its customers by supplying them with safe and reliable products and services.
Our company has developed and successfully implemented a program a quality control system, which is currently in place and is constantly improving.
The Certificate confirms the effectiveness of our quality management system that complies with the requirements of the international standards ISO 9000 series and ensures the achievement and stability of product quality indicators.