New TENOLY 208MY turn-milling machine: ST IG reduces the necessity of cooperation
ST Group's machine-tool park has been expanded with Taiwanese TENOLY company's four-axis CNC turn-milling center 208MY.
The maximum parameters of the machined workpiece: the X-axis diameter is 480 mm, the Z-axis length – 550 mm, the Y-axis length – 50 mm.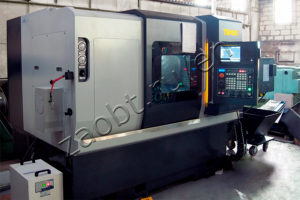 The machine's high rigidity and direct motor spindle ensure minimum material roughness up to 1.2 Ra and compliance with tolerance and fit class accuracy requirements up to h6.
The additional Y-axis makes it possible to combine turning and milling functions without the need to reset or use other machines. If using a driven tool, it is possible to produce a workpiece with complex geometry and ensure the highest possible precision class.
Automated control is ensured by the Fanuc 0i-TF CNC system, and the tool measurement system is represented by Renishaw.
The decision to purchase the TENOLY 208MY was influenced by two important factors: an increased workload during the optimization of production processes, and the elimination of inter-operational costs and the desire to reduce dependence on subcontractors.
The expansion of the machine park is expected to ensure compliance with contractual deadlines and to eliminate complaints due to internal quality control of product at each stage of manufacturing.