Our history
Safe Technologies Industrial Group is the Russia's largest company touting services in design and construction of environmental facilities, chemical production plants, waste thermal treatment plants and wastewater purification systems. The assets of ST include two industrial sites with the total area of over 10,000 square meters, scientific laboratory, non-destructive testing laboratory and the staff of 600 highly qualified engineers and workers. The company is a regular participant of the largest Russian and international exhibitions and forums. More than 100 completed projects all over Russia and foreign countries in the reference list speak for themselves. ST achieved these results during 15 years of successful work.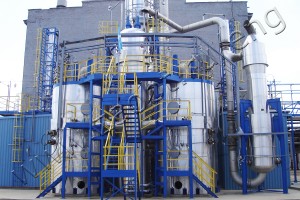 Company's history began in 2000 from engineering procurement and construction of formaldehyde concentrate, formalin and synthetic resins production facilities. The first order was received from Karelia DSP to build urea-formaldehyde resins production facility and methanol-free formalin plant in the town of Medvezhyegorsk. Right from this point Industrial Group began to receive design and construction orders for the chemical industry and then took the leading position in the Russian market. The joint project of ST and the company Hexion (now Momentive) of phenolics shop with Russia's largest reactor was praised by the international group of experts. Dozens of projects in the field of chemical engineering and construction were carried out for EuroChem MCC OJSC, UCC SHCHEKINOAZOT LTD, JSC Concern Stirol (now a part of OSTCHEM holding company), JSC  Uralchimplast, Balakovo branch of OJSC Apatit (PhosAgro), Voskresensk Mineral Fertilizers, OJSC (URALCHEM, OJSC).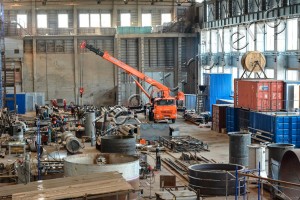 Since the company's foundation the manufacturing of the commercial and non-standard equipment is carried out on-site ST-Arsenal. Successfully completed orders for the leading Russian and foreign companies allowed to obtain equipment manufacture accreditation for OAO Gazprom, the state corporation Rosatom, the Federal Security Service of Russia and other customers.
In 2007 ST has produced the first waste thermal treatment facility under the brand КТО-50.К40. Thus, it was a new vector of development.on-site  Successfully completed orders for the leading Russian and foreign companies allowed to obtain equipment manufacture accreditation for OAO Gazprom, the state corporation Rosatom, the Federal Security Service of Russia and other customers.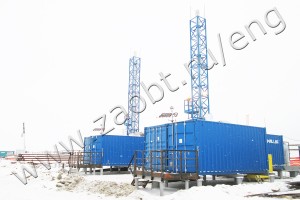 Up to date Incinerator КТО-50.К40 became popular as mobile unit among the largest industrial companies. Industrial Group expanded the range of solutions to waste treatment challenge to the types of waste and production capacities through constant research in the field of high-temperature waste treatment. The incineration plants of Safe Technologies production is capable of handling all types of waste: MSW, industrial waste, oil sludge, associated gas, medical and biological waste etc. in the hearth, rotating and cyclone furnaces. Powerful multi-stage flue gas cleaning systems have earned the highest scores of specialists and well known in Russia and abroad.
Especially worth noting the ST experience with oil and gas giant OAO Gazprom. Specific equipment requirements, installed, for example, in the fields under severe climatic conditions, stringent environmental standards enable Industrial Group to develop and implement innovative production solutions in waste management field.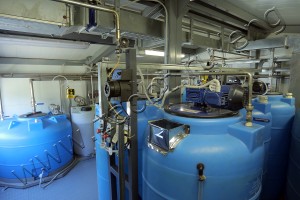 Wastewater treatment plant of Osmotics (part of the Industrial Group) production occupied the leading position in the Russian market. The company has ample experience in treatment of effluents with high chemical and biochemical oxygen demands.  Among the completed projects — waste cutting fluid treatment plant for Vyksa Steel Works, wastewater treatment plant for Adler landfill in Sochi, chemically purified water treatment system for JSC  Uralchimplast,  wastewater treatment plant for Salaryevo landfill.
In 2012 IPEC company joined the Safe Technologies Industrial Group. IPEC experts together with Safe Technologies personnel designed and manufactured the pyrolytic Thermal Decomposition Plant at the Safe Technologies' production facilities. The equipment is dedicated to the processing of hydrocarbon wastes with a recovery of commercial grade products.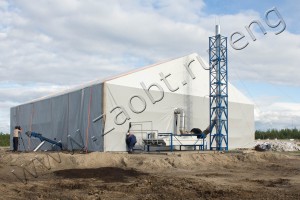 In 2014 Thermal Decomposition Plant UTD-2-800 was successfully commissioned at oil and gas field. This technological breakthrough has the multiple potential use, it is capable of solving several problems at once, such as liquidation of sludge pits, as it is required by law, and transition to pit-free drilling,  recovering landfills, contaminated by hydrocarbons, normalizing environmental situation on territories of oil producing companies.
Among unique equipment developed by the Industrial Group for the gas industry within last year is   methanol production plant, associated petroleum gas treatment plant, Fischer Tropsch technology and mobile compressor plant.
Methanol production plant is fundamentally new compact unit that allows producing the methanol directly at well clusters. APG treatment plant is modern and environmentally friendly equipment for associated petroleum gas utilization. High molecular mineral wax is made by Fischer Tropsch technology natural gas. Mobile compressor plant based on distributed compression technology increases  the gas production rate.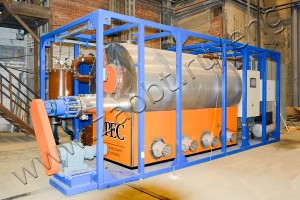 Safe Technologies Industrial Group has established itself as a reliable and responsible business partner. The company keeps the pace of its continuous improvement both in the field of new processes and quality control, developing new unique solutions embodied in the new innovative equipment.
In 2015 in addition to its traditional fields of expertize Safe Technologies IG extended the range of its services and manufactured equipment. Among those Modular electric power stations (MPS) can be mentioned. These stations are designed for providing electric power to the 1st category users in distant locations with underdeveloped infrastructure, for example for oil production sites.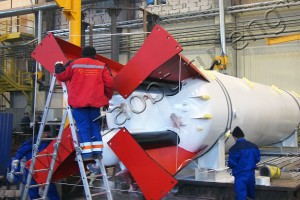 Cryogenic tanks for storing ultra-low temperature media designed and manufactured for gas fueling stations or gas fuel production mini plants became another novelty of 2015. At the moment Safe Technologies IG is the only manufacturer of such tanks in Russia. Safe Technologies IG manufactured the equipment for the pilot project of gas fueling station in Vyborg district of the Leningrad region.
Having acquired the ROSATOM certification for designing and manufacturing of the equipment for nuclear power stations, the Safe Technologies IG involved itself in its most interesting project of the year: the detritization equipment ordered by RosRAO for the pilot plant for cleaning of the radioactive waters from tritium. This column and accessory equipment is intended as a solution for treatment of the effluents of FUKUSHIMA nuclear power station offered by Khlopin Radium Institute.   The rectification column is furnished with cutting edge Intarex Chevron regular packing (Intarex Company joined the Safe Technologies IG in 2015) that leaves behind the Western made analogues by its efficiency at the same time costing considerably  cheaper.