Waste treatment Complex comprising TDP and KTO plants is shipped to the customer – JSC Apatit
Multi-functional and cost-effective waste treatment Complex is a custom-tailored solution, designed by Safe Technologies Industrial Group for one of the largest mining and processing enterprise in Russia – JSC Apatit (subsidiary of PhosAgro Group of Companies). The combination of pyrolysis plant TDP-1 and incinerator КТО-100.К40.П enables to find all-in-one solution in waste management field. Both processing units have already been procured to the customer.
Waste processing capacity of КТО-100.К40.П is up to 100 kg/h. Incinerator is designed for the utilization of used railway sleepers. LLC Ekoprom, subsidiary of JSC Apatit, is intended to apply the plant for the treatment of medical, biological, industrial and municipal solid waste.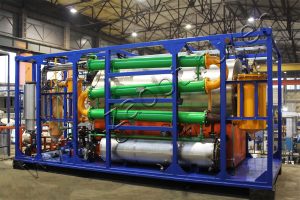 TDP-1 pyrolysis plant is designed for the processing of heavy equipment and construction equipment tires (CAT type) with the tire diameter of more than 2-3 meters. Until recently, used tires were stored on the territory of JSC Apatit enterprise: more than a hundred thousand of waste was accumulated there. Waste processing at TDP pyrolysis is capable to obtain valuable and marketable products, such as fuel oil, pyrolysis gas and dry subsoil. The plant will also process contaminated soils, conveyer belts, waste oils, etc.
Complex of TDP and KTO is not only multi-functional and environmentally friendly, but also cost-effective solution. Fuel of any kind (diesel, boiler, used oils, etc.) is required for TDP-1 plant startup. The derived products, pyrolysis gas and fuel oil, are further used for TDP self-sufficient and KTO maintenance operation consequently. During the processing of at least 1 ton of industrial rubber goods, it is possible to obtain an average of 450 kilograms of liquid synthetic fuel per 1 cycle.
Furnace of КТО-100.К40.П is equipped with a heat recovery technology that can provide a production unit with heating, hot water and other local needs. Heat recovery function became available only at low-capacity incinerators for the first time.
Customer's primary goal was the ease of operation with a minimum of human resources involved. TDP-1 is accomplished by new loading system based on motorized drive which helps to reduce the number of operators from three (required number for the former batch processing units) to one. At the same time, the management of the Complex is carried out from KTO operator's room.
The pilot project was presented to Sergei Donskoi, the Minister of Natural Resources and Environment, and thereto highly praised at the January meeting on the implementation of environmental activities in Murmansk region. If the results of this combination prove to be successful, the technology of waste treatment, based on both TDP and KTO units, will be applied extensively.