Waste-to-energy: fist tests run at ST-Arsenal production site!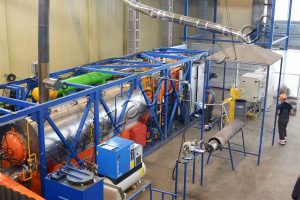 Safe Technologies IG started the actualization of the project on manufacturing free-running generator to yield energy from organic waste. The Complex comprises pyrolysis plant TDP-2-200 and microturbine power plant Capstone.
Retrofitted design of TDP-2-200 pyrolysis chamber ensures the high level of operational compatibility: loading and unloading devices fit into dimensions of 40 ft' container that makes it easier to transport and install the equipment.
First tests of the Complex were conducted in the presence of the customer at Safe Technologies IG production site. The retrofitted TDP-2-200 plant was coupled with the power-generating unit, based on Capstone. The high level of process efficiency of the Complex units enables to carry out the tests at a regular operation mode.
Chicken manure was used as a feedstock. It is an urgent problem for the poultry production enterprises to utilize this type of hazardous organic waste. At present moment, the waste management technologies have been developing rapidly. One of the custom-made but efficient solution is TDP plant, based on pyrolysis technology.
During testing process 200 kg of manure was treated, the produced pyrolysis gas was directed to Capstone C30 microturbine, which was able to reach its peak capacity of 32kW/h.