UTD-2-800 for Edesko is put into operation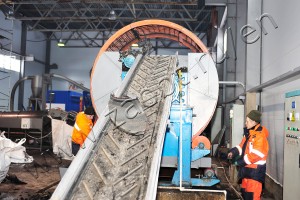 After successful testing and commissioning Continuous Thermal Decomposition Plant UTD-2-800 was put into operation in the beginning of December. The equipment was designed by the order of Gagarin Tire Plant Edesko. UTD-2-800 is specified on used tires and waste rubber treatment. Such waste materials are valuable due to its high calorific content.
Waste mechanical pretreatment is the first stage of the process. Worn-out tires are shredded into rubber crumb, followed by its loading into receiving hopper of UTD-2-800.  During the second stage, prepared raw material comes to the pyrolysis chamber for thermal treatment. The total capacity of the plant is 20 tons per day. UTD-2-800 transforms waste material into conditional products:
Pyrolysis gas provides cost-efficient operating conditions of the equipment. The excess gas is sent for the energy recovery, followed by hot water production for the necessity of the facility: the heating of premises.
Fuel oil is used for the needs of enterprise and or can be sold.
Carbon black can be used in construction mixes, rubber goods and absorbent production.
Environmental security and the absence of the harmful emissions are confirmed by the State Ecological Expertise.
It is important to notice, that the presented technology and main ancillary equipment satisfy the requirements of Russian state program of import substitution dated March 31, 2015.