Deliveries to Europe continue: the upgraded TDP-2-200M is shipped to Switzerland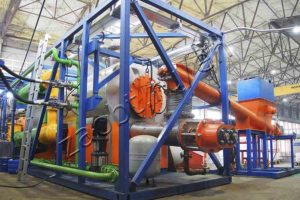 Specialists of ST Inc. expand the range of recycled waste bringing the manufactured equipment to a new level. Thus, equipment for the utilization of automotive scrap was shipped from one of the production sites of Safe Technologies to Europe. The customer of the TDP-2-200M Thermal Decomposition Plant was the Swiss company Wiederkehr Recycling AG.
Due to the pyrolysis plant gas treatment system modernization, the concentration of harmful substances in gas emissions does not exceed the standards established by the Swiss Legislation. The new TDP-2-200M model was successfully certified for compliance with the requirements of the European Directive 2006/42/EC ('On Safety of Machinery and Equipment').
The production facilities of ST Inc. allow the simultaneous manufacture of several Thermal Decomposition Plants per month. Today, the company's specialists continue to manufacture and supply the TDP-2-2000 components for the Estonian company Viru Keemia Grupp.