The work on commissioning КТО-50.К20.П plant in Kazakhstan is completed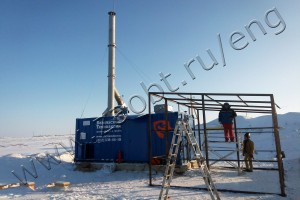 The end of January was marked by the successful completion of work on the commissioning of КТО-50.К20.П, equipment for waste treatment, in Kazakhstan. JSC AK Altynalmas, that is a major gold producer in a friendly country, ordered the customer's most popular model of incineration plant.
Specialists of Industrial Group performed supervision of erection and commissioning of the facility in full. The equipment has been tested and put into operation.
The facility КТО-50.К20.П designed for the treatment of wide range of waste is the most common model of incinerator of domestic production. Geography of the sites where the equipment used extends from Kamchatka Territory to the points of the Far North, conquering new frontiers beyond the Russian borders. The model is placed in a mobile 20' ft. container and capable to operate in severe climatic conditions.