The TDP-2-800 oil sludge treatment plant was shipped for the facilities of Gazprom Neft PJSC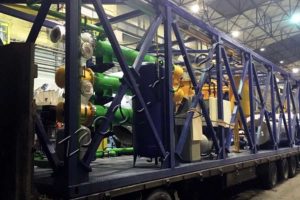 ST IG started deliveries of the components of the TDP-2-800 pyrolysis furnace manufactured under the order of Gazprom Neft PJSC. The shipment package included: a reactor unit, a condensation unit and a gas supply system.
The unit is designed for utilization of oil-containing wastes generated in the West Messoyakhskoye and East Messoyakhskoye oilfields: oil sludge and frozen oiled soils. Taking into account the specific nature of waste, the TDP-2-800 feed hopper is equipped with a chopper for pre-processing of branches and stones, which cannot be removed from soil by other methods. The plant also processes silt of biological treatment facilities of household and mixed sewerage systems.
The complex climatic conditions of the region, conditioned by permafrost, imply special demands on the equipment reliability and safety. The specialists of ST IG have developed the optimal design solutions: the modular TDP frame fixed on the pile foundation simplifies the installation work and significantly reduces the mass of the building structures. The wind-chilled cold cellar in the space between piles maintains the frozen state of the soil.
The waste loading unit and the processed product unloading unit is located outside the modular building to maintain a stable thermal condition of the site soil. Reinforced concrete pile foundations with overpasses ensure unimpeded entry of loading automotive machinery.
Manual and automatic modes are provided to control the technological processes. The latter does not require the presence of maintenance personnel, so it is required in the conditions of the Far North.