The First Russian Climate Forum: the report of ST IG on technological solutions for MSW landfills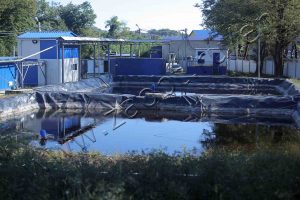 The First Russian Climate Forum was held in Moscow within the framework of the Year of Ecology in Russia on August 21-22. This is the largest international event in the country devoted to the problems of ecology and climate change. More than 200 domestic and foreign experts — heads of constituent entities of the Russian Federation, representatives of business, environmental organizations and  scientific community became the participants.
The representative of ST IG told about the dangers of landfill leachate, which is the main factor of the solid waste landfills negative impact on the environment, within the round table 'Modern landfills — contribution to greenhouse gas emissions'. Particular attention was paid to the technological solutions that the company offers for landfill leachate purification at different stages of its life cycle. The work of LPS treatment plants manufactured by ST IG is based on mechanical and reagent processing, ozonation, filtration and membrane reverse osmosis water purification technology. The treated wastewater and the leachate of the landfills are cleaned up to the maximum permissible concentration standards, capable to discharge these effluents into the fishery waters.