The final shipment of I-1 incinerator tube furnace units for the Omsk Refinery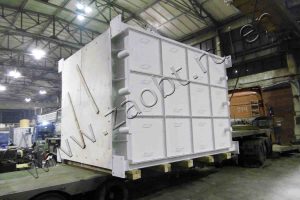 The works on the production of tubular heating furnace blocks based on the I-1 incinerator to set the continuous bitumen production of OJSC Gazpromneft-Omsk Refinery are completed.
The latest batch included convection chamber, bypass lined pipes, flue valves and other components. The whole number of units of non-standard equipment for I-1 was sent to the Customer with the production site of the enterprise.
Recall incinerator I-1 was designed for the complete afterburning of oxidation gases while ensuring the necessary temperature of heat transfer oil MT-300 ОM.
Safe Technologies specialists' extensive experience gleaned from kilns designing and manufacturing provides an opportunity to perform all the work qualitatively and according to the terms.
The next stage of the project on reconstruction of the continuous production of bitumen, which is assembly work, has been already begun at the industrial site of OJSC Gazpromneft-Omsk Refinery.