The delegation of the Ministry of Industry and Trade of Russia (Minpromtorg) visited the production site of Safe Technologies
The delegation of the Minpromtorg visited the production site of ST to form a reserve of contractors for solving environmental issues and manufacturing of environmentally-friendly facility in North-Western Administrative  District. Over 15 years Safe Technologies is a leader in the development and adoption of effective fully integrated solutions for the environmental industry. ST is also currently an active member of the state program of import substitution.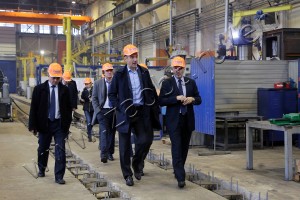 The delegation headed by the State Secretary, Deputy Minister of Industry and Trade also included the representatives of core-business departments: Vice-Governor of St. Petersburg, Chairman of Committee on Improvement of St. Petersburg, Director of St. Petersburg State Unitary Enterprise 'The waste treatment plant' (MPBO-2), Director of the Department of Metallurgy and Materials, Head of the Waste Management of Production and Consumption and Investment projects of the Committee on the Improvement of St. Petersburg.
During the meeting the experts of Safe Technologies presented the company's activities to the guests, gave a tour of manufacturing area, demonstrated the latest developments:
— Waste Thermal Treatment Facility (KTO). Standard equipment for safe disposal of the oily waste, followed by heat recovery.
— Motor oil derivatization (out of pyrolysis products) unit, the main element of which is a distillation column, completed with countercurrent packing of company's own production.
The delegation showed a keen interest in traditional technological solutions for waste treatment.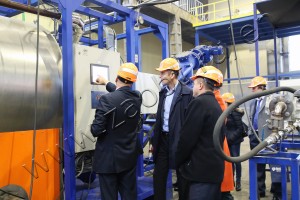 Waste Thermal Treatment Facility (KTO) is foolproof plant that provides wide range of solutions to waste treatment challenge and can be installed directly on MSW landfill.
It should be pointed out that the main goal of the Minpromtorg for today is to create a unified way for developing waste treatment domestic industry and formation the strategy of secondary products usage in manufacturing cycle.