TDP-2-2000 entered the European market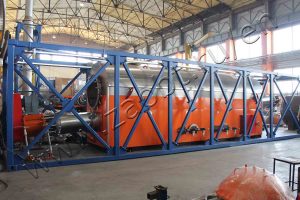 The company Viru Keemia Grupp turned to Safe Technologies IG with an order for the slate sludge processing equipment in April 2017. The contract was concluded for the supply of a system consisting of two TDP-2-2000 continuous mode units, guaranteed by a capacity of 1500 kg of waste slate per hour each.
The pyrolysis assembly, high quality of which was confirmed and based on results of trial operations of the installation at the production site of ST IG,  was shipped to the customer just three months after signing the contract, in mid-July 2017.
Recall that both the equipment, brand name TDP, and the company's workshop itself are certified according to the European standards, in particular the European Directive 'On the Safety of Machinery and Equipment' (2006/42/EC) by the specialists of TÜV Nord.