Synthetic resins technology of ST IG production received a pat on the back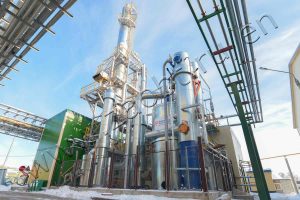 Safe Technologies took part in the annual conference of the Chemistry and Business journal devoted to synthetic binders. The conference touched upon the acute issues of the quality of wood boards and, consequently, the quality of raw materials for binders. During the conference, representatives of the All-Russian Scientific Research Institute of Wood, scientists dedicated their work to a synthetic binder, representatives of woodworking enterprises.
World-famous expert on formalin, Ph.D. Valeriy Sharykin spoke highly of facilities of the Safe Technologies production, and also denied some of the most popular ideas about UFC and non-methanol formalin, stressing that the resin production should be integrated for the production of high-quality products, including non-methanol formalin/UFC plant. The representative of the Belarusian enterprise Rechitsadrev also praised the recently launched ST IG make UFC-85 plant at the enterprise. It is noteworthy that this plant produces both UFC-85 and non-methanol formalin, since the plant enables mode switching.
Traditions and innovations of formaldehyde synthesis and the successes achieved by the Industrial Group in this field highlighted in the report of the representative of Safe Technologies.