ST IG at the conference «Pylegazoochistka (Gas cleaning 2022)»: innovative solutions for cleaning industrial gases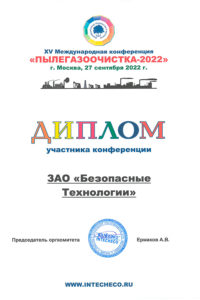 Safe Technologies Industrial Group participated in the XV International Conference «Gas Cleaning — 2022», traditionally dedicated to new emission abating technologies search.
The company's delegate presented the SafeCAT units — highly effective equipment for cleaning emissions by catalytic oxidation. A platinum glass fiber-based catalyst developed jointly by ST IG and the G.K. Boreskov Institute of Catalysis of the Siberian Branch of the Russian Academy of Sciences ensures flameless oxidation of organic pollutants to harmless substances.
Among the latest innovations is an improved catalyst with a higher platinum content than in the usual one. Specific cost of such catalysts is higher, but the final capital cost of the project is reduced due to exclusion of heat recovery system from the process train.
The conference members also were presented with a catalytic unit workbench for testing the equipment on different pollutant compositions even at the stage of pilot works. Thus, the efficiency of the pollutant removal is ensured for the Customer.
The participants of the discussion noted the high potential of SC Catalytic Oxidation Units in the domestic market.