Sakhalin-2 project: Safe Technologies is listed as recommended Russian manufacturer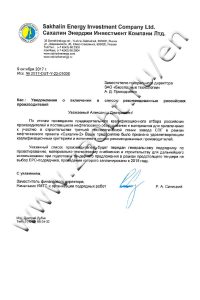 Safe Technologies passed equipment and services suppliers' qualification for the Sakhalin-2 project.
The Sakhalin-2 project, which began in 1988, is dedicated to the development of the Piltun-Astokhskoye and Lunskoye offshore fields, containing a total of 182.4 million tons of oil and 633.6 billion cubic meters of natural gas. The facility includes oil production platforms off the coast of Sakhalin and all related infrastructure.
The present stage of the project is the construction of the third stage of a plant for the production of liquefied natural gas. The LNG plant has been operating in Korsakov since 2009, currently two of its production lines produce a total of 9.6 million tons of liquefied natural gas per year.
Safe Technologies is one of the manufacturers of equipment for cryogenic media handling (CNG filling stations, loading and unloading arms), and at present the company's production facilities are developing self-intermodal container-type cryogenic tanks for raw materials transportation, storage and delivery to the consumer. The accumulated experience and potential will enable Safe Technologies to actively participate and win tenders for Sakhalin projects.