Safe Technologies Industrial Group presented its products and processing solutions in Tatarstan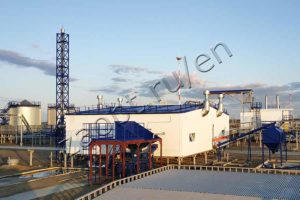 The practical conference «Technological Challenges of Tatneft» was held in Almetyevsk, the «capital» of Tatneft, and was dedicated, as the name implies, to the efficient technologies of oil production and associated industrial processes, including environmental challenges.
The delegate of Safe Technologies Group, Commercial Director made a report titled «Recycling of Drilling Waste, Oil Sludge and Other Oilfield Waste on the Continuous Pyrolysis Unit TDP-2: Ecological and Technological Aspects of Operation».
In his speech he emphasized that the environmental solutions based on pyrolysis units presented by Safe Technologies not only allow abandoning sludge pits, the scourge of oil and gas production, which leaves contaminated poisonous «sores» within production areas, but also make it economically viable. With the help of such solutions it becomes possible to fulfill the requirement of the Russian Government about transition to pitless drilling.
This solution exists not only in the form of a project, it has been tested and proved itself perfectly in the territories of Krasnoyarsk Krai and some others.