Safe Technologies is a partner of charity match for orphans supported by the Ice Hockey Federation of Saint-Petersburg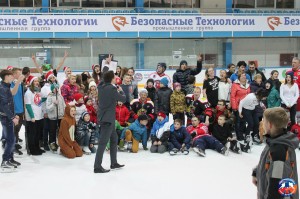 December 26, 2015 the small arena of sport complex Jubileyniy held a charity match of St. Petersburg Hockey League and SKA Stars for orphans and orphanages supported by the Ice Hockey Federation of Saint Petersburg.
The event is held twice a year, and the current one was timed to coincide with New Year 2016. Safe Technologies Industrial Group became a partner of the action. Charity match is an opportunity to support and promote a love to sport and healthy lifestyle for children in difficult circumstances.
At this time, 90 children from 7 orphanages took a part in the solemn event. Entertainment program included Santa Claus and Snow Maiden company, cheerful competitions and sweet gifts. Mass skating was organized after the hockey match between the fans and SKA stars. The youngest participants were given the opportunity to feel themselves as a figure skater with professional athletes help. For those who already know how to 'stay' on the ice on their own, hockey game master class was carried out. Experienced trainers taught daredevils the basics of the art of skiing, shown the main ways of overcoming obstacles and braking on ice.
After the great event, tennis tables were brought as the New Year gift to each orphanage thus more pupils could experience the atmosphere of the sport.
The next charity match is scheduled for April 2016 to raise funds for a summer vacation for children from orphanages.
Safe Technologies plans to continue to support the St. Petersburg Hockey League to help the orphans.
---
Photo is provided by the Ice Hockey Federation of Saint-Petersburg