Safe Technologies IG received a positive review on its КТО-50.К20.П incinerator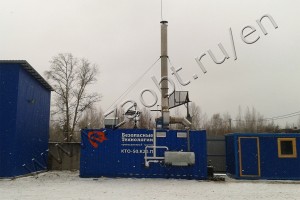 LLC Akonit gave a positive review to Safe Technologies Industrial Group on its professional work for КТО-50.К20.П to be successfully installed and tested at the Akonit Company's production site. Due to the well-coordinated teamwork of Safe Technologies organizational units, the equipment was manufactured, shipped and commissioned in the contract short term.
Akonit Company's activity focuses on the treatment of industrial, household, hazardous and other waste, including its collection, transportation and processing. Expanding the service range, the Company purchased КТО-50.К20.П incinerator – a modern equipment that capable to process wide range of waste. Hearth incinerator is equipped with automatic control system, fits the container, does not stress the environment and meets standards and requirements of Rosprirodnadzor (Federal Service for Supervision of Natural Resource Usage). Flue gas cleaning system prevents emission of hazardous combustion products into the atmosphere.
Similar incinerators of Safe Technologies IG manufacture are installed in many different locations in the Russian Federation. The positive feedback of LLC Akonit is not the first and, undoubtedly, not the last one received.