New contract of ST IG and Rechitsadrev JSC: modernization of UFC and methanol-free formalin production
In 2017, the leading Belarusian woodworking company Rechitsadrev launched its own line for the production of synthetic resins based on UFC-85 — binders for the chipboards and plywood manufacture. The project was developed and implemented on a turnkey basis by the specialists of ST IG.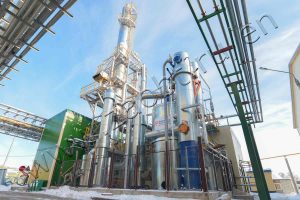 Currently, Rechitsadrev is preparing to launch the plant at a new capacity — from 30,000 to 37,500 tons of urea-formaldehyde concentrate per year. Safe Technologies once again was selected by the contractor to solve the Customer challenges. A set of equipment (compressor, heat transfer, pumping equipment, instrumentation, automated process control systems, etc.) was shipped to the Customer production site last week.
ST IG will also conduct installation supervision and commissioning as part of the modernization, as well as Customer's personnel training.