Pyrolysis unit shipped for Slavneft-Krasnoyarskneftegaz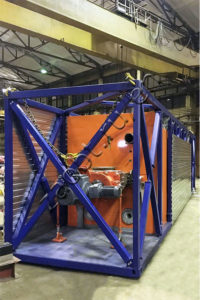 In December 2019, an additional pyrolysis reactor for the UTD-2-2000 unit operating at the Kuyumbinskoye oil-gas field developed by OOO Slavneft-Krasnoyarskneftegaz was dispatched to the installation site.
With the help of this unit, the capacity of the Drilling Waste Utilization Complex will be doubled. The so-called 'tandem' principle of the process is a new solution of IPEC company (a member of Safe Technologies IG), resulted in stable increase in unit productivity: in the first reactor preheating and drying of raw materials is carried out while in the second reactor the thermal destruction of drilling waste is completed.
Decentralized operation of high-performance Waste Utilization Complexes on the basis of UTD-2-2000 is carried out by the service company BT-Promotkhody at several branches of the Kuyumbinskoye field.