Production enterprise as part of "ST" IG received an extended nuclear license from Rostechnadzor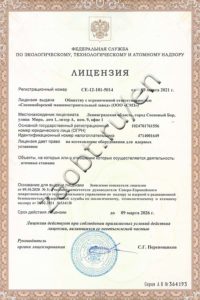 License CE-12-101-5014 dated March 9 was issued by the Federal Environmental, Industrial and Nuclear Supervision Service to LLC "SMZ" (part of "ST" IG) in terms of manufacturing equipment for nuclear facilities of operation classes 2,3 and 4 in accordance with NP-001-15 and NP-043-18.
"SMZ" LLC is permitted to manufacture not only metal structures, pipeline parts or tank equipment for the nuclear industry, as it was before according to the previous permits, but also technologically rich capacities for radioactive waste disposal, their physical movement in the storage pools and transportation. Thus, the areas of cooperation with enterprises of Rosatom are significantly expanded, and importantly, cover the sphere of waste management, where the management company of the industrial group ("ST" CJSC) is one of the industry leaders with many years of experience.