Processing of coke industry waste at TDP-2-800 pyrolysis plant: the equipment shipped to the Customer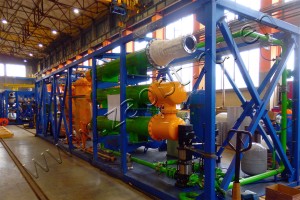 Earlier it was reported that the contract with LLC Stroyengineering (Novokuznetsk) had been signed on the shipment of the continuous pyrolysis plant TDP-2-800 for the processing of non-standard type of waste, such as coke industry waste. This type of waste is difficult to process and nowadays TDP-2 is the only solution capable of gaining the secondary products from it.
After just 2 months, the assembled equipment was shipped to the Customer. TDP-2-800 plant is manufactured in terms of the maximum operational compatibility, assuming to minimize the installation period at the Customer's production site. Three modules fit into the dimensions of standard 40 ft' containers and it significantly facilitates the transportation of the equipment.
Within the contract frames, Thermal Decomposition Plant TDP-2-800 is designed to be a part of industrial Complex for the coal washing refuse, coke and by-product waste processing into oil, fuel additives and carbon sorbents. The key objective of such Complex is tar pits processing. These are the areas where the coke industry waste of metallurgical venues is accumulated. The waste is deposited close to the city and now it represents an environmental threat.
Let us recall that the test batch of such waste was processed at TDP-2-200 plant on the territory of technopark ST-Arsenal. These tests yielded the positive results.