NEFTEGAZ-2017: ST IG solutions for petroleum and petrochemical industries
The 17th International Exhibition for Equipment and Technologies for Oil and Gas Industries NEFTEGAZ-2017 will be held at EXPOCENTRE (Moscow) on April 17-20. The participants are the world's leading manufacturers of the technologies and equipment in oil and gas production, transportation and processing fields. Safe Technologies Industrial Group will demonstrate unique engineering projects in several activity areas.
Modernized TDP-2-200.M pyrolysis plant for the utilization and processing of oil-contaminated waste will be exhibited as a full-size facility. The bestselling model of pyrolysis furnace is now equipped with additional group of screw conveyors, which expands the surface for raw materials heating and significantly increases productivity of the process.
Safe Technologies IG experts developed the design and manufacture of both complex and production equipment for oil and gas, petrochemical industries:
Industrial separators for deep gas treating from different types of liquid and mechanical impurities. ЦГС-600 separator is presented at the exhibition for the first time.
Tube furnaces and process coils for high-temperature heating of oil and petroleum products during their processing. The scale model of П-101 production complex is presented at Safe Technologies stand.
Marine loading arm for oil and gas products is an essential equipment of any terminal for loading and unloading of oil products. An architectural 3D model of the equipment is also available for demonstration.
Catalytic units for the recovery of oil and petroleum products vapors. The key principle of the technological process is the flameless oxidation of contaminated hydrocarbons to harmless products. The platinum catalytic module is also presented at company's stand.
Column equipment, equipped with the regular mass-exchanging packing of company's own production, etc.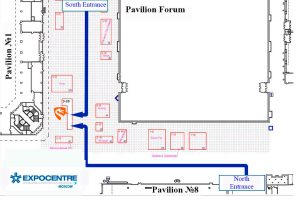 Please see the address and our locations below:
Russia, Moscow, Expocentre, Krasnopresnenskaya naberezhnaya, 14
Open area next to the Pavilion №1, stand 3-20 (Safe Technologies Inc.)
Follow the link to get e-ticket.
Look forward to meeting you at NEFTEGAZ-2017!