LATAT MFD plant's own production of UFC at the unit of ST IG manufacture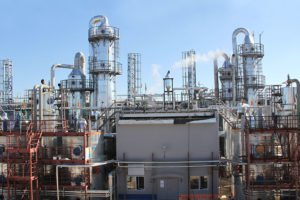 Safe Technologies CJSC concluded a «turn-key» contract (design, delivery, construction supervision and commissioning) for the UFC-85 production unit with the capacity of 60 000 tons per year in physical terms.
The largest MDF plant in Russia will get its own UFC, which is necessary to fine-tuning of board production lines, obtain higher quality products and increase production efficiency in general. Only resins based on urea-formaldehyde concentrate produced in-house without long transportation times and without adding stabilizing agents will ensure the production of wood-based panels with minimal formaldehyde emissions that meet current E0.5 category requirements.
Safe Technologies' proprietary technology of UFC production based on metal oxide catalyst process provides safe UFC production, methanol conversion not less than 92%, low power consumption and steam production for the needs of the enterprise.  At the same time, the implementation of the process has high environmental performance, needing a Sanitary protection zone (SPZ) of no more than 300 meters. Safe Technologies Group has more than 10 similar facilities, and the technology is constantly being improved to be as efficient and safe as possible.
Due to carefully elaborated design cycles, construction and production of the equipment, the customer will receive its own raw material (UFC-85) in less than a year and a half.