Industrial gas separator shipped for PJSC "Cryogenmash"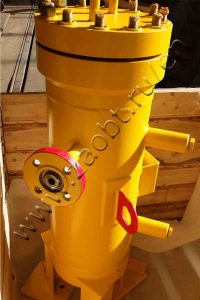 Safe Technologies, Inc. manufactured and shipped the industrial separator (dust collector) P-1.15.219 to the customer in the Moscow region. This device is manufactured under the technical project of PJSC «Cryogenmash» — the largest Russian manufacturer of equipment for air separation and developer of integrated solutions for processing of associated, natural gas and LNG. The filter is designed for separating purification of the natural gas stream from adsorbent dust and mechanical impurities before it enters the LNG plant.
Safe Technologies, Inc. constantly expands its activities and currently is fully developing a new segment — the production of separation equipment. Several major projects have already been planned for the current year, including the manufacture and supply of industrial separators for a number of large oil companies.