Hazardous waste from TB hospital will be treated at KTO incinerator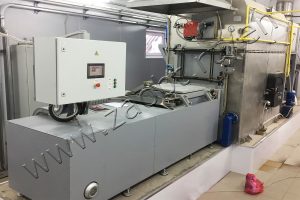 A.E. Rabukhin Regional tuberculosis hospital №11 in Solnechnogorsk, Moscow Region, is a health institution for mostly the patients with disabling conditions, with refractory forms of tuberculosis and for HIV infected patients. A lot of them were admitted to the hospital from the pretrial detention facilities. Incinerator, enabling to decontaminate 100% of such type of waste, is an effective solution.
Hospital management applied the plant with capacity of 100 kg of medical waste treatment per hour. KTO incinerator was commissioned at the hospital in the middle of December. Waste Thermal Treatment Plant is equipped with automated loading system for the protection of maintenance personnel from the contaminated waste.
KTO is intended to replace the former and already run-down facility of another manufacturing company. Safe Technologies IG personnel conducted the commissioning of the treatment plant under normal condition.