Fuel gas refrigeration system for LLC NGK Gorny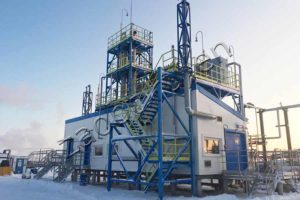 Safe Technologies IG has signed a contract for manufacturing of fuel gas refrigerator for oil and gas company Gorny. This contract is an additional supply of equipment to the already executed contract for turnkey delivery of the unit for amine sulfurization of associated gas for the Severo-Mukerkamylskoye field.
Associated gas utilization is an important environmental objective set for the oil industry. Associated petroleum gas (APG) is used as fuel for electrification of the whole field by means of gas piston power plants and it has to be cleaned from sulfur to avoid the premature depreciation of equipment. It should be reminded that the amine purification unit has successfully coped with this task, providing the required hydrogen sulfide content, which is confirmed by the warranty tests and further operation.
This year's delivery will make it possible to complete the unit with a refrigerator of 700 m3/h capacity in a container version. Within the framework of the supply contract all works will be performed on a turn-key basis: from the development of design documentation and introduction of necessary changes in the amine purification unit design to manufacturing of process equipment and supervision of installation and commissioning works.