Dust and Gas Treatment Conference: catalytic oxidation is an effective technology for industrial emissions control
The 20th Dust and Gas Treatment International Conference (Moscow) wad held on September 26-27. Leading manufacturers of gas treatment equipment, representatives of industrial, engineering, design, research and service companies of Russia, Europe and CIS countries met to discuss topical problems of production process gas purification.
The delegate of the Safe Technologies Industrial Group made a presentation Gas Treatment Based on Catalytic Oxidation. Innovations. Import Substitution, which scientifically substantiated the choice of the catalytic oxidation technology as the most optimal solution for purifying industrial emissions from volatile organic compounds.
The technology of catalytic oxidation using a glass fiber-based platinum catalyst developed jointly with the Boreskov Institute of Catalysis, is under testing as part of the program on import substitution.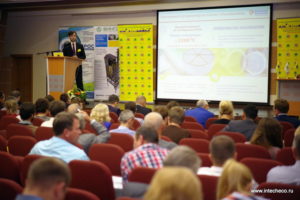 The SafeCat plants for catalytic treatment of gas emissions from ST Inc. make it possible to purify highly diluted gases through the use of an additional technological unit — a rotary concentrator. Note that there are no domestic analogs of this equipment for today. Hydrophobic zeolites are used as a sorbent in rotor concentrators, which greatly simplifies the process of material regeneration itself.
The presentation of the ST reporter caused a keen interest and response of the target audience, which is not surprising, since the proposed technology will be applied in the oil refining and food industries, machine building, paint production, leather production, rubber synthesis and production of synthetic coating materials, etc.
---
The organizers of the Dust and Gas Treatment Conference 2017 Intecheco LLC provided the photo.