Disposal of water-methanol mixture at NOVATEK Purovsky Plant began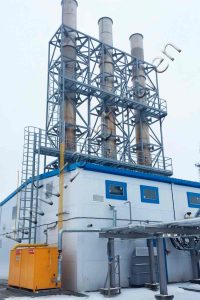 The complex for the thermal treatment of effluents and water-methanol mixture was successfully commissioned at the NOVATEK Purovsky Plant site.
Recall, the WMM recycling system based on the KTO-3000.BM.C unit for thermal neutralization of waste includes three high-performance lines. The delivery of the equipment was carried out in the shortest possible time, despite the high complexity of the assembly units of the complex, both in terms of technology and in a constructive way.
The specialists of the Safe Technologies Industrial Group also fully completed the installation supervision and start-up operations. The technological equipment of the complex was put into operation mode with a load of water-methanol mixture up to 97.9 m3/day. In the future, this will enable the utilization of the WMM, generated within gas production, with an increased content of paraffin.
Years of experience in the design and construction of facilities for the utilization and processing of industrial waste enable the team of
ST IG to produce the entire complex of works on the turnkey facility erecting in a short time: design and manufacture of equipment, buildings, structures, engineering networks, automation.