Desulfurization Gas Treatment Unit Was Launched for Oil and Gas Company 'Gorny'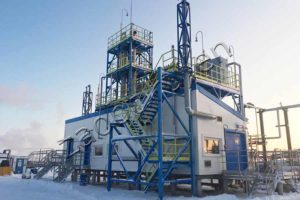 Gas treatment unit with desulfurization was launched and put into operation at the Severo-Mukerkamylkskoye field, which is being developed by the 'Gorny' oil and gas company.
The unit with a rated feed gas capacity of 120-250 nm3/h is intended for purification of associated petroleum gas (APG) from sulfur compounds by absorption with an aqueous solution of methyldiethanolamine followed by regeneration of the solution.
The chemisorption process of acid gases by a solution of methyldiethanolamine (MDEA) is carried out in a contactor, the active zone of which is a highly efficient stacked packing units with intermediate gas and liquid vapor distributors.
The regeneration of a saturated MDEA solution is carried out in a stripper, where "acidic" impurities are removed from the solution: hydrogen sulfide and carbon dioxide, which are then discharged to the flare. The purified low-sulfur gas after drying is fed to the power generation equipment as fuel gas.
Also, as part of the commissioning, a comprehensive testing of the plant was carried out for 240 hours of continuous operation. APG with a significant amount of sulfur (not less than 4%) was supplied for purification; gas was measured at the outlet from the process, which confirmed the compliance of the treated stream with the design requirements — the content of hydrogen sulfide was less than 20 ppm (<0.002%).
Successful tests showed that the process solution proposed by the specialists of ST IG is fully functional and will self-supply electricity to the entire Severo-Mukerkamylkoye field only through the beneficial use of a by-product of oil production — associated petroleum gas, which will significantly reduce the operational costs of the facility, where energy costs amounts to 35%.
---
Recall that the Safe Technologies Industrial Group by the order of oil and gas company 'Gorny' completed the desulphurization gas treatment unit in the shortest possible time, starting from the manufacture of equipment at its own production facilities, ending with putting the complex into operation and staff training. Modular design and maximum factory availability of units facilitated transportation and reduced installation costs.