Contract on Formaldehyde production plant retrofitting for JSC Rechitsadrev is completed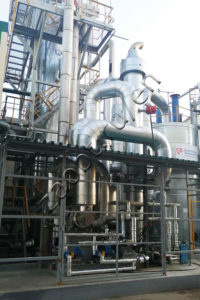 In November 2018, Rechitsadrev and Safe Technologies IG signed an agreement to modernize the existing UFC/low-methanol formalin production plant in order to increase its capacity from designed 30 to 37.5 MTPY by 37% formalin.
The plant launched in January 2017, the equipment and technology for which was supplied by Safe Technologies, proved to be impeccable. Start up works and commissioning of the plant was also carried out by the staff of Safe Technologies. Fine adjustment of process parameters on high quality equipment allowed obtaining 1.5 times more total output of the product than was guaranteed by the catalyst supplier. That is why the capacity increase request to Safe Technologies from Rechitsadrev was naturally expected.
In the course of modernization by installing additional equipment for capacity increase into the process, the plant was put into pressurized mode, which also required making adjustments to the existing technological scheme of absorption. The cooling circuit, process gas recirculation tract were modernized, the control system was upgraded.
The contract has been successfully fulfilled and Safe Technologies wishes Rechitsadrev productive work on the new catalyst!