Continuous pyrolysis unit of 2000 kg per hour capacity put into operation at the oilfield in Krasnoyarsk Region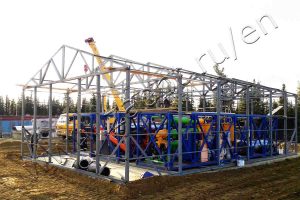 Continuous Thermal Decomposition Plant TDP-2-2000 of high capacity was commissioned by BT-Promotkhody at Kuyumbinskoye oil-gas field. Pyrolysis furnace of TDP-2-800 model is now being modernized for the new TDP-2-2000 unit.
The external dimensions of new equipment remain the same as it still fits 40-ft container whilst the internal design of pyrolysis assembly was retrofitted. TDP-2-2000 has a new system of screw conveyors, which is designed for the effective distribution of raw materials.
Currently, the contract with OAO NGK Slavneft was extended for 2017. TDP-2-2000 was put into operation successfully. The plant is now processing tens of tons of drilling sludge per day and it fully complies with the design specifications of the equipment.
Another TDP-2-2000 pyrolysis unit is being prepared for the shipment from the production site of Safe Technologies IG to Europe.  It is to be noted that the company obtained European certificate TÜV NORD for the production of high-capacity TDP plants in 2017.