Comprehensive shredder tests successfully completed (VIDEO!)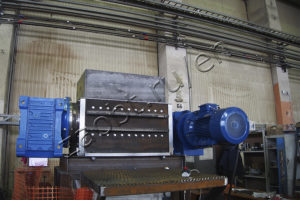 Comprehensive tests of the twin-shaft shredder were conducted at the production site of Safe Technologies IG.
The equipment was engineered by the specialists of the industrial group to equip the waste preparation unit before the high-temperature treatment — in the incineration plant KTO or pyrolysis furnace TDP.
The industrial shredder expands the list of components manufactured at ST IG's own facilities and allows completing the tasks of equipping technological plants on a turnkey basis.
The twin-shaft shredder with a rated capacity of up to 3000 kg/h is designed to process municipal solid waste, with minimum operator involvement. The principle of operation of the shredder is the continuous crushing of materials (MSW), which is carried out by two synchronously rotating rotor shafts. After processing in the shredder, the waste enters the conveyor, passes through the loading device and is fed into the furnace by the pusher.
The equipment tests were conducted in two stages: feeding of single-component and mixed waste.
The input material used was waste that would be shredded for further thermal treatment: defective tools, polymer plastic materials, tires, wood, boards with nails, corrugated cardboard, etc. Also, metal and aluminum drums of up to 200 liters were loaded. All types of test waste were crushed to a fraction of 50x50mm.
Test works of the industrial shredder passed in accordance with the test program and showed its stable operation at different loads when shredding MSW of different morphological composition.