CJSC «ST»: technological solutions for the nuclear industry
On March 25-26, 2021 the specialists of CJSC «Safe Technologies» took part in online meeting with the representatives of Rosatom. The meeting focused on various issues of nuclear industry waste management, including radioactive waste.
The first day was devoted to the recycling of radioactive waste from the operation of nuclear power facilities or radioisotope equipment not related to fuel elements. They include rubber products (elements of protective clothing and PPE), textiles with traces of radioactive contamination, and liquid radioactive waste — oils, emulsions, waste water.
All of the above-mentioned types of waste can be processed by the advanced continuous pyrolysis unit TDP-2 with an enhanced gas cleaning system. Due to the tightness of the process, pyrolysis reactors are suitable for recycling this kind of waste. The TDP application makes it possible to considerably decrease the volume of production and consumption waste generated at the facilities. For the decontamination of large amounts of waste of hazard class 1-2 (including chemical weapons) we recommend rotary furnaces, also equipped with a multistage gas purification line.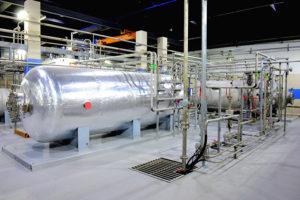 Evaporator for radioactive effluent treatment.
Image source: «TVEL» JSC, Rosatom
The second day of the event was devoted to evaporator units for liquid radioactive waste disposal produced by CJSC «ST». This circulating vacuum distillation unit proved to be excellent at the "Novosibirsk Chemical Concentrates Plant" ("NCCP", part of Rosatom).
It should be recalled that CJSC «ST» has a full set of permits, including an updated Rostechnadzor license for design and manufacture of equipment for nuclear facilities.