Charity hockey game for orphaned children was held supported by Safe Technologies
December 9, 2016 St. Petersburg buster arena of sports complex Jubileyny hosted a charity hockey match for orphans and children from social institutions of the city. A team of professionals Veterans of SKA and an amateur team Hockey for Children met in a friendly match on ice, and young fans were watching from the stands. The event was organized by the Hockey for Children charity movement, the St.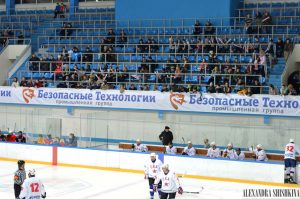 Petersburg Hockey League and the St. Petersburg Hockey Federation Charity Game with the support of ST IG.
For some of the kids that day was the starting point to achieve athletic goals — imbued with the atmosphere of the game, in which 'real men play', the guests gone to the ice. There, under the guidance of professional hockey players they learned how to stand on skates confidently, to have a firm hold over bandy, and to perform basic elements. In addition to the sport show, the boys waited and other entertainment: mobile games, relay races, competitions, painting and much more.
Charity hockey game has already become a good tradition, which makes the life of children in difficult life situations brighter. The event is held annually, and each time an increasing number of children takes part in it. This year more than 120 children from eight social institutions of St. Petersburg participated in a game. Safe Technologies support of the event as a partner of organizers was not born yesterday, the Company intends to continue this charitable initiative.