VUZPROMEXPO: high-performance catalytic plants — joint development of ST Inc. with the Boreskov Institute of Catalysis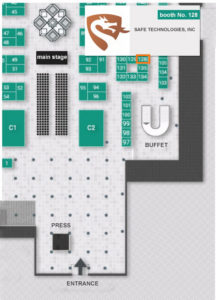 On December 13-14, 2017, the Expocentre Fairgrounds (Moscow) will host the national exhibition VUZPROMEXPO. This is an annual event that summarizes the implementation of joint developments of science and industrial enterprises, funded by the Ministry of Education and Science of the Russian Federation.
Safe Technologies Industrial Group together with the Boreskov Institute of Catalysis of the Siberian Branch of the Russian Academy of Sciences is working to create a high-tech import-substituting production of compact, energy-efficient catalytic plants for treating gas emissions from volatile organic compounds. Project No. 03.G25.31.0221 is being implemented with the financial support of the Ministry of Education and Science of Russia.
Today, catalytic treatment is a priority direction in the development of technologies for purification of industrial gases in world practice. The result of cooperation of ST Inc. with the scientific institution will be the implementation of new technical solutions for protecting the environment from harmful emissions of production activities of industrial companies.
The uniqueness of the catalytic neutralization unit is due to the features of the developed catalyst. In addition to high resistance to traditional catalytic poisons, the content of precious metals in the glass-fiber catalyst is dozen times lower than that of the best world analogs. That significantly reduces the cost of the process.
It should be noted that compared to competitive analogues of catalytic gas treatment, the designed plant will be much smaller. The small size of the plant is achieved by using a plate heat exchanger and a rotary concentrator.
This technology will be widely applied in chemical, petrochemical, food, woodworking, pharmaceutical industry, ferrous metallurgy and radio electronics, as well as in enterprises engaged in collection, transportation and processing of waste.
As part of this R&D stage, the exhibition will feature:
a model of the catalytic cartridge of the plant in a section with details of the components:
demonstration model of the catalytic plant;
materials for formation of the catalyst cartridge (structural grid).
We invite you to see the company's developments at: Expocentre Fairgrounds, Russia, Moscow, 14, Krasnopresnenskaya nab., FORUM Pavilion, booth No. 128 (Safe Technologies Inc.).